ŞÜKRAN MORAL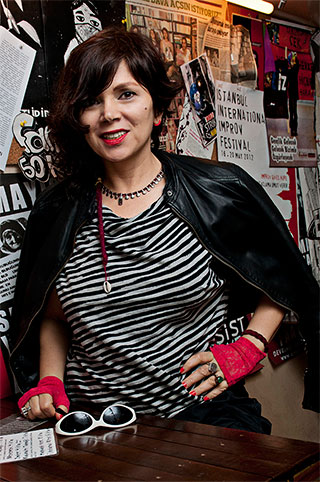 Şükran Moral is one of the seminal performance artists in Turkey. Her work challenges the position of women in society, focusing in particular on violence against women or other underrepresented groups.
Moral's performances have often taken place in very diverse spaces, from brothels and hamams to mental hospitals, disrupting thus their normal function and turning them into discursive platforms for art.
Şükran Moral lives and works in Istanbul and Rome. Her work has been exhibited internationally, most recently in;
Rittato di una Cita, MACRO, Rome (2013)
Light From the Middle East, Victoria and Albert Museum, London (2012)
Bodies of Silence, Royal College of Arts, London (2012)
In which language shall I tell my story..., The Stedelijk Museum, Amsterdam (2012)
Desire, Sex & Lust, Sexuality in Contemporary, Bergen Kunst Museum, Norway (2012)
Amemus, Galeri Zilberman, Turkey (2010)
New Acquisitions and Highlights, 21C Museum, USA (2009)
Love and Violence, Yapı Kredi Kazım Taşkent Art Gallery, Turkey (2009)
Modern and Beyond, Santral Istanbul Museum, Turkey (2007)
Peace... Fucking Fairy Tale, Gallery BND, Italy (2007)
Zina - The Adulteress, 51st Venice Biennial, Italy (2007)
5th International Istanbul Biennial, Turkey (1997).
Her works are in numerous public and private collections including Arter, Istanbul, The British Museum, London, Istanbul Modern Art Museum, Victoria & Albert Museum, London.
You can download more detailed resume in pdf format.